The BSW online, professional degree program is intended to equip practitioners with knowledge and best practices relevant to current local, national and global needs from a contemporary social work perspective. Please refer to the BSW program information for detailed descriptions of the program, admission requirements and courses. Course delivery will include audio and visual components to augment online course materials.
Program Mission Statement
The Bachelor of Social Work degree program at Vancouver Island University provides social work education that addresses local, national and global needs in a community context. We are committed to enhancing the capacity of individuals and communities; to addressing social issues emanating from the absence of equality and opportunity; and to promoting social justice through the preparation of graduates with demonstrated capabilities in the areas of clinical practice, research and community development.
Program Accreditation
Consistent with the program's interest in promoting excellence in contemporary professional social work practice through peer oversight that ensures high academic and practice standards, the Bachelor of Social Work program at Vancouver Island University is accredited through the Canadian Association for Social Work Education.
Bursaries and Awards
There are generous bursaries and awards available to current and prospective BSW students to offset the tuition costs of this program. The BSW program is offering 3 types of bursary/awards to 3rd and 4th year students. Each bursary is worth $5,000 per year as a tuition credit. Students must submit the application forms by 11 pm, October 15. Application forms are available on the BSW Student Hub at VIULearn.
Note: The number of bursary/awards available each year is contingent on available funding.
Applying to the online BSW Program
Please review the Frequently Asked Questions to access information about online courses that will assist with completing prerequisites for entry in the Bachelor of Social Work Program.
Apply to VIU. Official transcripts and admission documentation must be mailed to:
Registration Centre
Vancouver Island University
900 Fifth Street
Nanaimo, BC  V9R 5S5
Please note that applicants must submit official transcripts from all post-secondary institutions/programs attended.
If you have applied to the program and have questions, please contact: Advising@viu.ca or, to arrange an in-person or phone advising appointment, call 1.888.920.2221 Ext: 6410 or 250.740.6410. Visit the Advising Centre for information about booking an appointment with an Educational Advisor.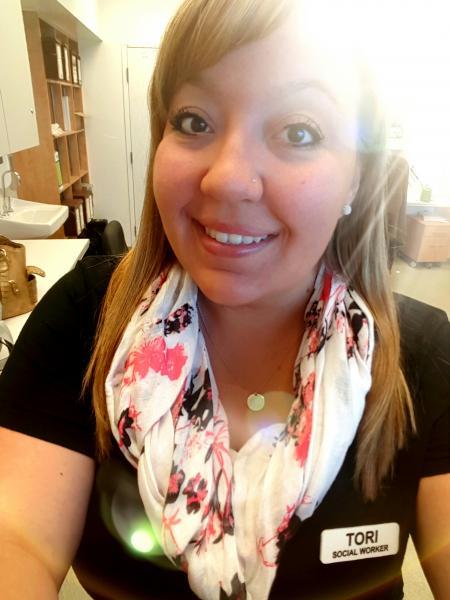 My name is Tori Babcock and I work as a registered social worker at the Psychiatric In-patient Unit at Belleville General Hospital in Belleville, Ontario. I graduated from the VIU BSW program and it was the best decision of my life! Having graduated previously with a social service worker diploma, I was looking to increase my skills, knowledge, practical experiences and job opportunities. In fact, my first paid position after I graduated on the Assertive Community Treatment Team, came about because of the experiences I gained in my 4th year practicum. The professors were all knowledgeable and experienced in their areas of practice.  They provided personalized experiences and contact and were always willing to support students in attaining their educational and practice goals. Even in an online program far away from where I was located, I never felt isolated or alone. I can definitely recommend the program to any potential students.