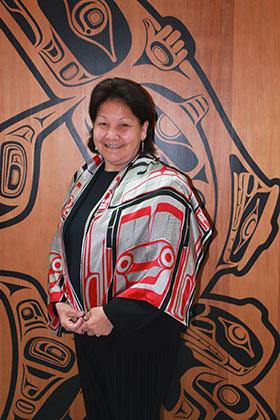 Email: georgina.martin@alumni.ubc.ca
Georgina Martin's ancestry is Secwepemc (Shuswap) and she is a member of Lake Babine Nation (Carrier). She developed the curriculum for First Nations Health and Wellness I & II and teaches both courses in the Community Health Promotion for Aboriginal Communities program at VIU. Georgina incorporates Indigenous Knowledge in her teaching philosophy and advocates for Indigenous communities with respect to education, health, and social issues. As a Governor of the Central Interior Native Health Society (1998-2000) she supported the planning, delivery, and evaluation of culturally based health programs that addressed the physical, mental, emotional, and spiritual needs of First Nation clients. Georgina provided face-to-face support to Band Administrators and Health Care Representatives for the Brighter Futures Program, Nobody's Perfect Training, HIV/Aids health education, Community Health Plans, and Heath Transfer Agreements in her role as the Community Health Development Officer (1993-1997) for Health Canada. Georgina has over twenty-three years of experience with various federal and provincial government departments.
In 2014, she completed her PhD research titled "Drumming my way home: An intergenerational narrative inquiry about Secwepemc identities" which examined the stories of three generations and how knowing oneself strengthens identities. The results showed how the content of stories and the process of storytelling open a new world of pedagogy, meaning, and philosophical knowledge that reaches across disciplines. 
Her research interests include intergenerational trauma from residential schools and Indian hospitals, cultural identity, Indigenous self-determination, Indigenous education, and Indigenous voice. Through her lived-experience she promotes the reclamation of space for Indigenous peoples by infusing relevant and respectful content in her curriculum and speaking her truth in public lectures to educate the populace about the historical injustices thrust upon Aboriginal peoples.