Education Assistant and Community Support (EACS) program
Train for a rewarding career working with people with learning and behaviour challenges in the EACS program at the tiwšɛmawtxʷ campus in Powell River.
Online and in-person classes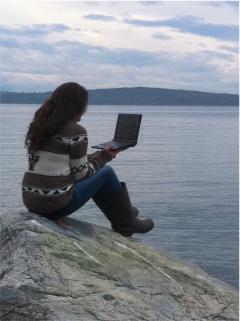 Online classes give you the flexibility to study from anywhere. In-person classes give you the chance to practice what you learn with other people. With the tiwšɛmawtxʷ EACS program you get the best of both worlds. In this program you:
attend scheduled online webinars
complete online modules each week
meet for in-person classes for two weekends each semester
This makes the program a great option if you want to work while you study. It's also ideal if you live outside of Powell River or have family responsibilities.
Program schedule
You can take this program on a full-time or part-time basis. When you take the program full-time, it takes three semesters to complete the 10 courses. You take two to four courses each semester.
Program details
See full program details, including costs, admission requirements and course outline.
Practicums
The program includes two practicums, one in an education assistant role and one in a community support worker role. We make every effort to place you in practicum in your home community.
Additional costs
If you live outside Powell River, you will have to pay for travel and accommodation to attend in-person classes. These classes are held on two consecutive days over a weekend, twice each semester.